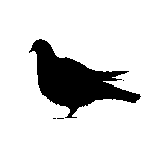 Pigeon Control Toronto. Our technicians humanely deal with pigeon problems with a variety of methods. Such methods include the usage of spikes, nets and even wires. Call Wildlifeshield to speak to an experienced pigeon control professional if you are facing problems at your home or business. Speak to a technician about your problem and let us now if and how we can help. If the problem requires professional assistance one of our technicians will visit your property to inspect the situation and provide recommendations. Call to schedule an inspection at
647-560-3988.
Pigeon Control Services
The first step to dealing with any pigeon problem is to perform a detailed inspection of the given premises. Our technicians will inspect every crack and crevice of your home or business to identify the access points pigeon are using to get into your establishment. It might be easy to identify a roost but sealing all crevices and openings requires an inspection. The technician will safely climb on your roof and take photographs of any damage and entry points caused by the pigeons. After the inspection is concluded the photographic material from the inspection will be presented to the home or business owner. This process guarantees transparency in the work actually required to fix the problem at hand.  Based on the photographic material, the technician's assessment and the owners preferences an action plan will be drawn out.  When a decision has been reached on the best possible approach, only then will work commence. Wildlife Shiled provides a plethora of solutions in dealing with pigeon infestations. Our technicians can apply spikes, nets and even wires to prevent pigeons from damaging your property. We remove roosts and seal all crevices or openings using galvanizes wire mesh. The technicians then use screening on any open vents or exposed air conditioners or other types of machinery to prevent pigeons from coming back in. An important aspect of pigeon control is cleaning and disinfection. Cleaning of bird feces is vital as pigeon feces can prove to be a major health concern. Wildlife provides cleaning and disinfecting services that include removal of feces and nesting materials. Dealing with pigeons can be troublesome and even hazardous to your health. If you are facing a pigeon infestation at your home or business please give us a call. Call Wildlife Shield now at
647-560-3988.
Toronto
Mississauga
Oakville
Etobicoke
Scarborough
Pickering
Ajax
Markham
Rirchmond Hill
North York
Vaughan
Brampton
Disinfect & Deodorize
Insulation Removal
584 Parliament Street
Unit 4
M4X, 1P8
Toronto, Ontario